Being on the State Board of the California Association of Student Leaders is a great honor. In order to gain the honor, a student has to submit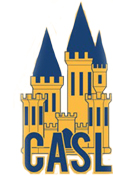 an application, an essay, letters from the principal and activities director, and agree to present a workshop to students at a state convention. That is just the beginning...
Over 200 applications are received by CASL, and all of them are blind read (names are removed). Thousands become 30, and those 30 willcampaign at the state's largest student leaders conference April 6-8. Twenty will ultimately be chosen to represent students on this board. They will travel around the state, presenting workshops, acting as ambassadors to elementary and junior highs, and conducting a week long summer camp for middle school students.
Activities Director, Lisa Walters, recently announced, "PVHS has had several students apply, but this year, we have a candidate...JENNY MARTINEZ. She would be a wonderful representative of our school on the state board, just as she will make a great ASB President."