TRANSPORTATION DEPARTMENT CONTACTS
Jerry Sitton, Transportation Manager, 805-922-4573, x4711
Danielle Murillo, Transportation Secretary, 805-922-4573, x4712
District transportation is provided for students who reside in the northwest corner of our school boundaries.
Bus Stops and School Loading Zones: Students need to be at their assigned bus stop 5 minutes prior to the scheduled arrival of the bus. Students who are late need to find other means of transportation to school. Students may only board and disembark at the approved stop. 
Identification Cards: Students must present and scan a valid school identification card with the proper bus assignment indicated prior to boarding and exiting the school bus. Identification cards are equipped with RFID tracking chips to identify who is on the bus. Failure to present a valid ID card will lead to denial of service.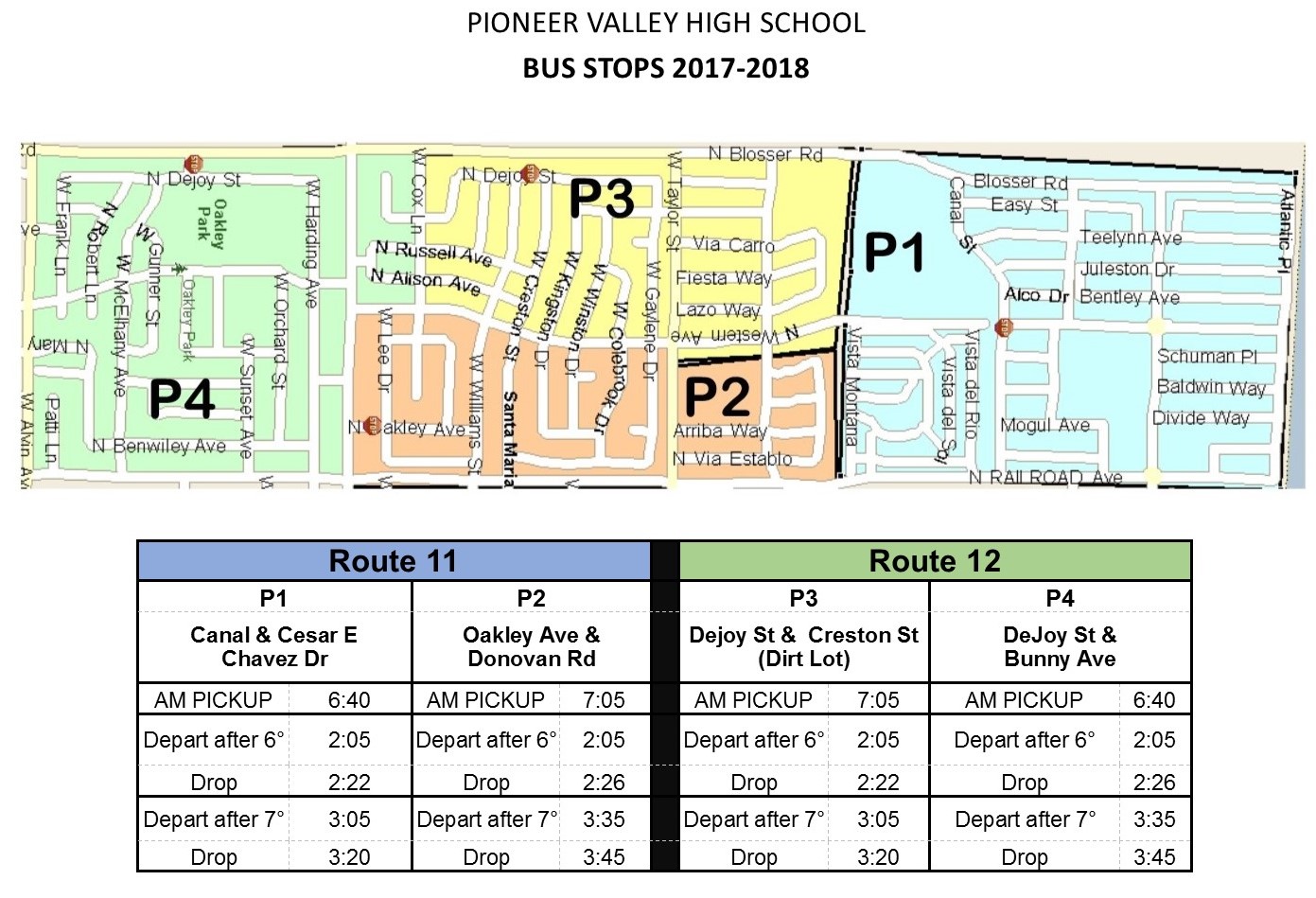 In addition, busing is provided for students with special needs that make it difficult for them to get to school, to transport athletes to and from athletic events, and for enrichment field trips.
Some students utilize the city's SMAT transportation system between home and school. Reduced rates for students are available. For more schedules and more information, see the schedule below or visit their site at http://www.ci.santa-maria.ca.us/3075.html
Walk and Roll Video - A partnership between PVHS, City of Santa Maria and Traffic Solutions to promoting varied modes of transportation to and from school and featuring PVHS students! (To view video, enter access code: walkandroll)
SMAT Schedule revised as of July 2014
Fares: Regular $1.25 Student with student ID $1.00
Fares subject to change without notice. Must have exact fare as drivers do not carry change.
For students who leave school mid-day, there is a SMAT bus pick-up at Domingues/Panther at 11:43 or 12:13.