PVHS FFA Citrus Judging State Champions 2023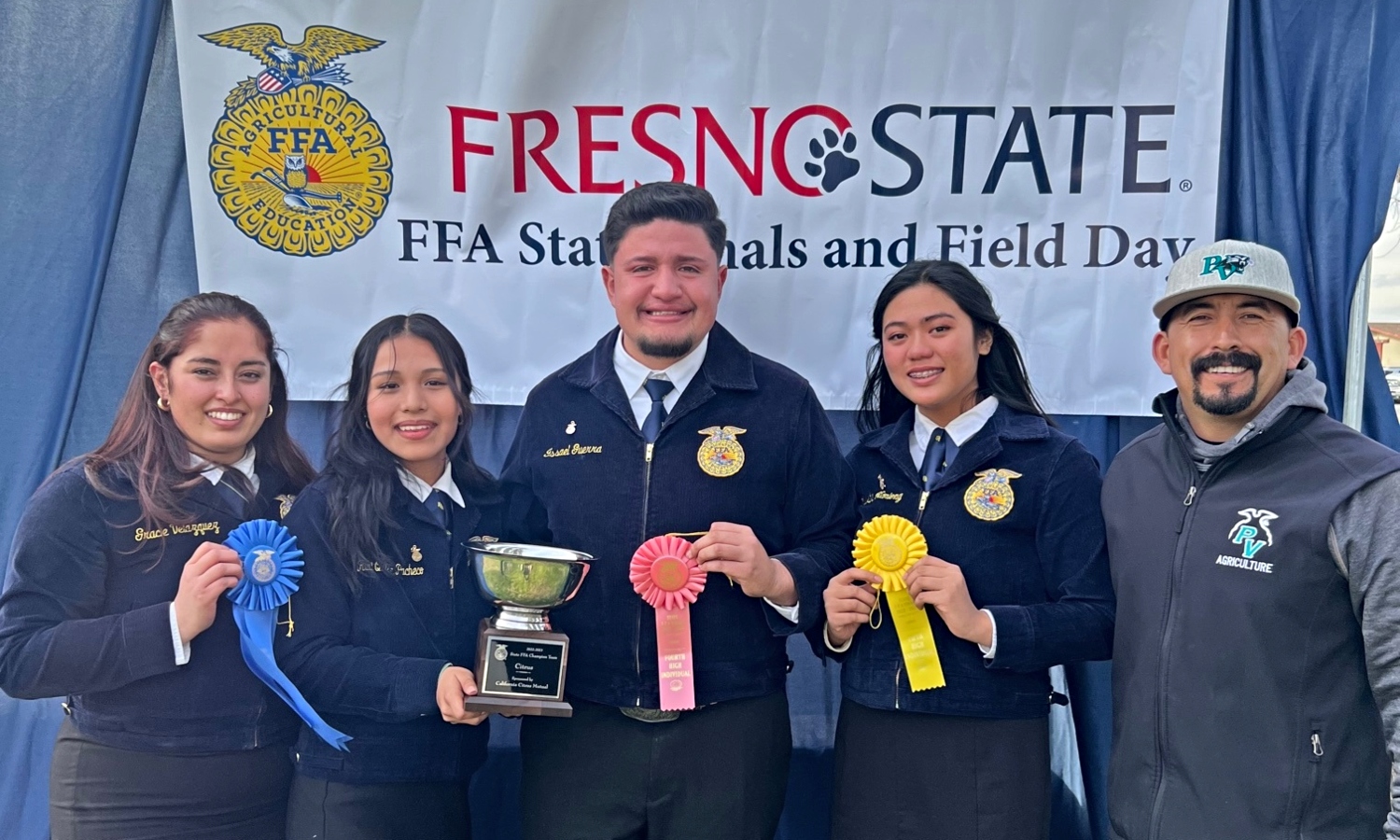 ---
NEWS * NEWS * NEWS
PRESS RELEASE
Two judging teams from the PVHS FFA recently placed among the top competitors at a winter Citrus Judging Competition hosted by Fresno State University and the State FFA organization.
The PV 2023 Citrus Judging State Champions are Issael Guerra (4th high individual), Muisha Naniong (5th High individual), Rubi Quiroz and Gracie Velazquez.
The Citrus Contest seeks to effectively prepare students for the expectations of the citrus industry. Students seeking careers in the citrus industry must develop a high degree of knowledge and skill in industry standards as well as critical thinking, oral communication, and plant biology. The knowledge gained from this contest can also be applied to general fruit production.
Pioneer Valley also had a team competing in the Novice Contest that was hosted by Fresno State University. The team members are Kelly Morales, Frankie Velazquez, Denzel Guerra, and Andrea Cuevas. This team placed 2nd in the state in their division.
"These students worked really hard, and the results show it,'' said FFA Teacher and Advisor Hector Guerra. "They represented Pioneer Valley very well with the victory but more importantly to me they are very well liked throughout the state for being such good humans. I told them before every contest to go show the state what I already know!''
"Our victory wasn't just us four, it was thanks to the rest of the team, thanks to the amazing support of our FFA chapter and from the never-ending guidance from our Coach Mr. Guerra,'' team members said.
The event was sponsored by the California Citrus Mutual Board.
SMJUHSD Media Contact: Public Information Officer Kenny Klein
805-709-1454 or kklein@smjuhsd.org
XXX