Ciena Acosta earns Athlete of the Week Award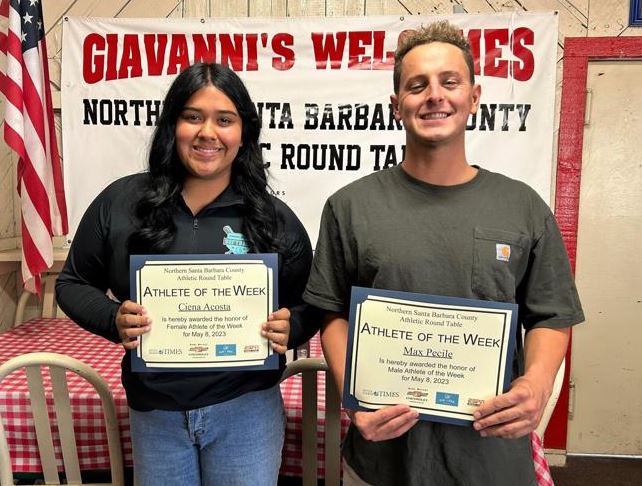 ---
Ciena Acosta, Max Pecile earn Round Table Athlete of the Week honors at final luncheon of the year school year
Courtesy of Santa Maria Times - Editor: Kenny Cress
Hancock College swimmer Max Pecile and Pioneer Valley softball pitcher Ciena Acosta are the Northern Santa Barbara County Athletic Round Table (NSBCART) Male and Female Athletes of the Week respectively for the week ending May 6.
The two were honored at the final NSBCART meeting of the 2022-23 school year at Giovanni's Pizza in Orcutt Monday.
Pecile, a Santa Ynez High grad and former Santa Ynez Swim Club member, garnered a top-six finish in all three events he swam in at the men's California Community College Athletic Association (CCAAA) Championships that took place Thursday through Saturday at East Los Angeles College. He finished third in 4 minutes, 01.58 seconds in the 400 individual medley, sixth in 1:53.00 in the 200 IM and sixth in 1:52.82 in the 200 backstroke.
Acosta pitched a complete game and struck out 16 as Pioneer Valley edged second place Nipomo 2-1 at Nipomo Friday to clinch at least a share of the Ocean League championship. Unofficially, Acosta, who struck out 15 in a 1-0 Pioneer Valley win the first time the Panthers played Nipomo, gave up two hits Friday.
Pioneer Valley will clinch the league title outright if it wins its 4:30 p.m. Friday game at San Luis Obispo to wrap up the regular season.