Spring Elective Exploration Day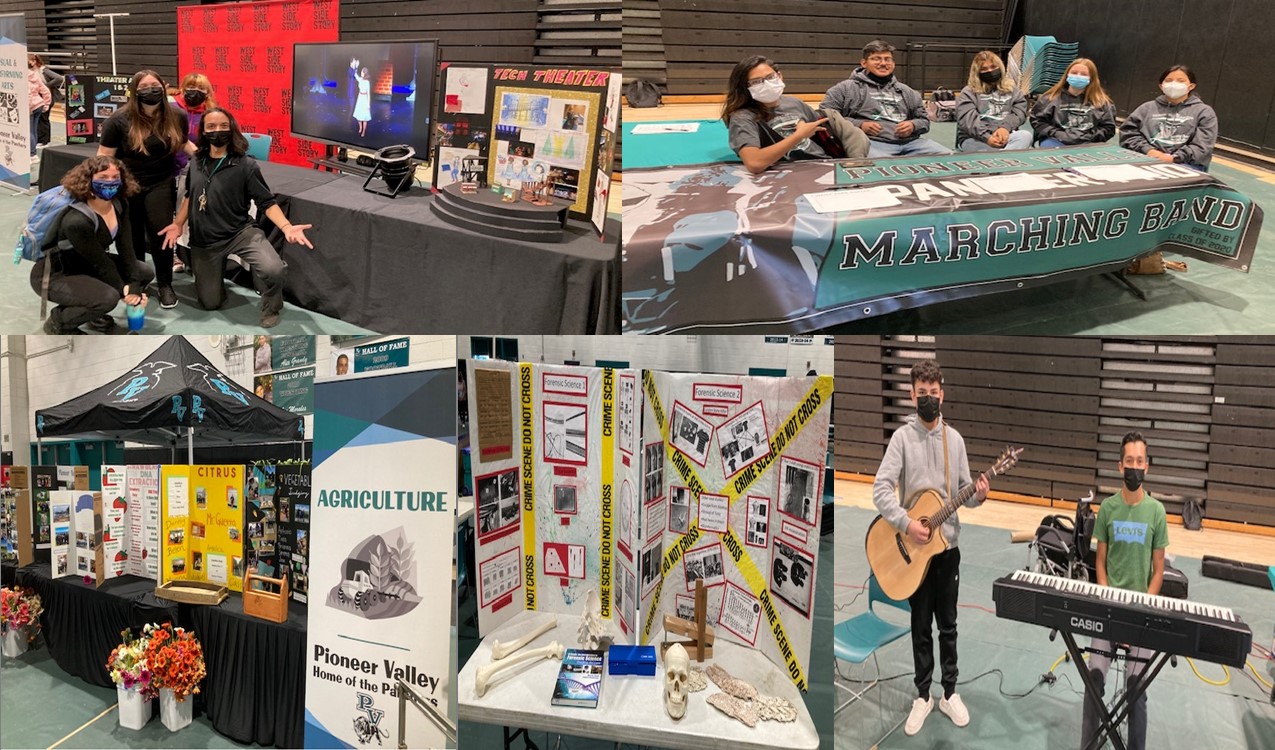 ---
NEWS*NEWS*NEWS
SANTA MARIA JOINT UNION HIGH SCHOOL DISTRICT
PRESS RELEASE
---------------------------------------------------------------------------------------------------------------------------------------------------------------------------------------------------
February 17, 2022
Pioneer Valley High School students received a preview of electives that will be offered next year during Spring Elective Exploration Day on Friday, February 17.
The event happened inside the gym where students (grades 9-11) visited numerous elective display booths and talked to department representatives about the value of their selections.
PV Ag Leadership Student Luis Hernandez (11th grade) and Paola Valdovinos (11th grade) described the experience as an "amazing" way for them to interact and promote the Ag and FFA classes to their peers. This allowed them to see first-hand the types of projects they complete to meet their SAE (Supervised Agricultural Experience) requirements and build a portfolio for future educational and career opportunities.
Assistant Principal Greg Dickinson said the growth of Career Technical Education and Career Pathways has led to the design of new course offerings and the redesign of some old course titles as well.
"It provides teachers an opportunity to promote their programs and encourage students to learn more about the various elective classes we offer,'' Dickinson added.
Counselor Nadia Ventura agreed adding, "This was a great way to get kids to explore electives and CTE Pathways right before we kick off our grade level registrations!"
Programs and classes on display included:
Family and Consumer Science - Culinary Arts and Apparel Construction
Media Marketing and Publications
Medical Assisting and Medical Careers
Forensics
Band
Piano
Guitar
Theater Arts and Tech Theater
Choir and Songwriting
Digital Arts
Various Ag classes such as Ag Mechanics, Ag Leadership, Animal Science, Vet Science, Ag Business and Fruit Science
Social Science courses in Ethnic and Gender Studies
Industrial Technology courses in Woods and Small Gas Engines as well as Mechanical Drawing
PE electives in Weights and Fitness for Life
Sports Medicine and Athletic Training
International languages of Spanish and French and Cine y Teatro
Business classes in Gaming Technology and Web Design
SMJUHSD Media Contact: Public Information Officer Kenny Klein
805-709-1454 or kklein@smjuhsd.org
XXX