Link Crew 2022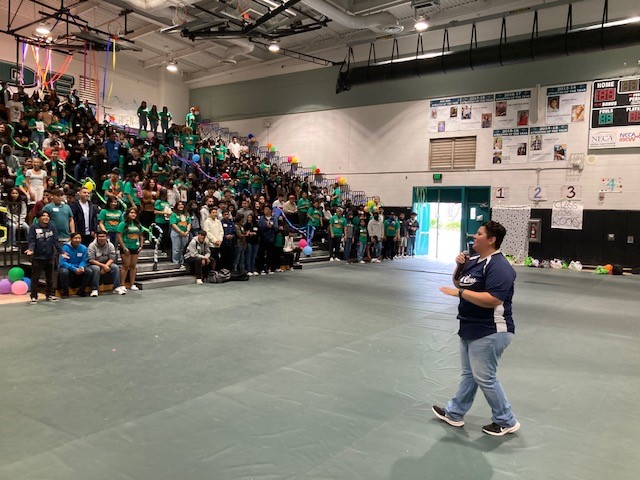 ---
NEWS*NEWS*NEWS
SANTA MARIA JOINT UNION HIGH SCHOOL DISTRICT
PRESS RELEASE
--------------------------------------------------------------------------------------------------------------------------------------------------------------------------------------------------------------------------------------------------------------------------
August 5, 2022
More than 700 new freshmen will receive an early welcome and information about Pioneer Valley High School on Friday, August 5.
The 13th annual "Link Crew Freshmen Orientation", which starts at 8 a.m. and wraps up at noon, involves 150 junior and senior leaders and staff showing off the school's learning and social environment.
"It's about building bonds and allowing the 9th graders to form a connection with the campus before school begins,'' said Panther Advisor and Teacher Marcie Guerra. "We want to establish a trusting and comfortable environment. This is a great way to alleviate stress that comes along with starting a new school.''
The day begins with an assembly inside the gym. Then, the student volunteers and mentors divide the new learners into groups and travel to classrooms for a variety of positive interaction and activities. Questions are answered by peers and staff.
Before the campus tour, the new students and their mentors select a theme. Then, they wear costumes to represent the theme. In the past, the costumes included a student leader dressed as a chicken and the freshmen as eggs. Another year, the student leader was a hamburger, and the freshman were french fries.
The student leaders also plan to match-up with freshman as part of a mentoring process that continues throughout the year. That commitment has ensured the new students pay it forward to others in the future.
Righetti High School held an orientation to welcome more than 600 new freshmen on Aug. 4, according to Warrior Principal Ted Lyon. Delta High School recently completed their new student orientations, according to Dragon Principal Nate Maas. Santa Maria High School will hold its "Link Crew Orientation" for more than 740 new students on Aug. 10, according to Saint Principal Steve Campbell.
"Our teachers and staff are aware of what it means for students to be returning to school each year,'' said SMJUHSD School Board Member Dominick Palera. "Many of the older students returning are excited to catch up with friends and get to know the teachers they will have this year. The freshman, on the other hand, are just beginning their new journey into high school. Everyone at the school sites wants every student to realize that this is "Where Greatness Grows" and there is no limit on what they can achieve."
SMJUHSD Media Contact: Public Information Officer Kenny Klein
805-709-1454 or kklein@smjuhsd.org
XXX