All-League: Pioneer Valley's Isaiah Guerrero lands MVP Honor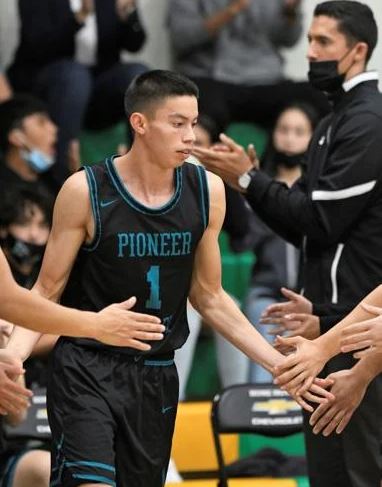 ---
Article courtesy of Santa Maria Times - Joe Bailey
League MVP awards are pretty rare for Pioneer Valley basketball players.
But Isaiah Guerrero is in fact a league MVP.
The Pioneer Valley senior was named the Ocean League's Most Valuable Player on the Central Coast Athletic Association All-League team.
Guerrero helped Pioneer Valley win the Ocean League title, using his rare ability to blend skill, size and tenacity in one package.
The 6-foot-2 wing was able to lead his team's aggressive full-court defense by hounding ball-handlers with boundless energy on the floor. He could also score, adept at slashing to the basket and scoring off the ball while also knocking down 3-point shots.
Guerrero helped the Panthers, coached by Ross Rivera, go 17-11 overall and 10-0 in the Ocean League to grab the league crown.
Morro Bay's Christian Merrill was named the Defensive Player of the Year.
Guerrero has plenty of familiar company on the All-League team. There are three Pioneer Valley players on the First Team.
They are Marcus Minera, a 5-foot-10 senior guard, Jomar Soriano, a 5-foot-9 point guard, and Frankie Hin, a 5-foot-9 senior.
Santa Maria has one player on the First Team: That's 5-foot-11 senior Alex Milner, a standout scorer for the Saints. Milner led the Saints, scoring 18.1 points per game. He added 5.8 rebounds.
San Luis Obispo's Cy Isaacs, a 5-foot-10 junior, and Morro Bay's Camden Steeb are also on the First Team.
Second Team
Pioneer Valley has one player on the Second Team and that is 6-foot-2 senior Adan Rubalcava.
Orcutt Academy makes its first appearance on the All-League team with 6-foot-4 sophomore Michael Bloodworth earning a Second Team designation. Bloodworth averaged 8.6 points and 5.4 rebounds per game for the Spartans.
San Luis Obispo has two players on the Second Team in juniors John Raj and Jaden Pooler. Templeton's Nicky Frangie, a 5-foot-5 junior, is also on the Second Team.
Honorable Mention
Santa Maria's Jorge Adame, a 6-foot junior, earned Honorable Mention recognition. Adame was second on Santa Maria in scoring with 11.6 points per game and he led the team with 8.9 rebounds per game.
Pioneer Valley's Gabriel Magana, a 5-8 junior, is on the Honorable Mention team, joined by Orcutt Academy's Trenton Buzard, who averaged 9.4 points, 5.7 rebounds, 1.5 assists and 1.3 steals per game for the Spartans.
The rest of the Honorable Mention squad is San Luis Obispo junior Nolan Attala, Morro Bay freshman Jake Falat and Templeton junior Kyle Asplund.