CLASS OF 2023
ADVISOR
Ms. Sylvester email: ssylvester@smjuhsd.org x5431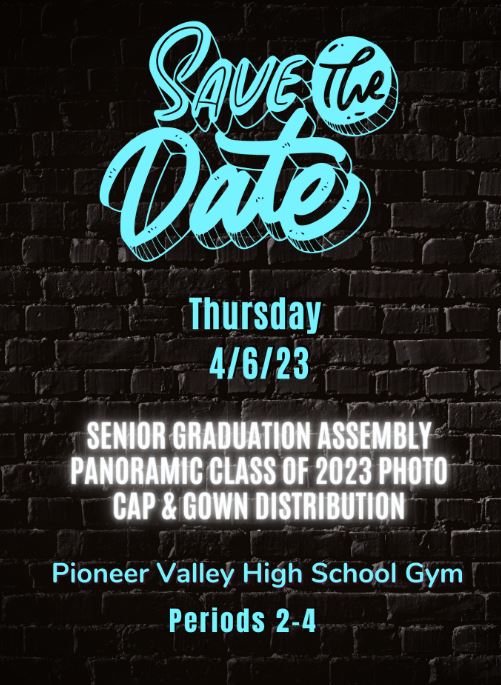 11/14/2022 JOSTENS SENIOR MEETING
11/15 & 11/17: JOSTENS WILL BE AVAILABLE
DURING LUNCH
TO PLACE ORDERS
OR
VISIT WWW.JOSTENS.COM TO PLACE AN ORDER
12/14-16 FALL SEMESTER FINALS
4/6/2023 Minimum Day
Senior Graduation Assembly
Panoramic Class of 2023 Photo
Cap & Gown Distribution
Period 2-4
5/17/23 - 5/18/2023 GRAD NITE
Cost: $290.00
Contracts and No-Go List Available in the Library
All Sales Final
5/13/2023 PROM
Cost: March 6th-10th $50
March 13th-17th $60
March 20th-24th $70
5/24/2023 Jostens will be on campus during break and lunch to deliver Cap and Gowns
Place your order by visiting Jostens.com
or
6/7/2023 Graduation Practice 1:15PM
6/8/2023 GRADUATION 2PM
Please note the following regarding graduation attire for the 2023 ceremony:

The Superintendent or designee may require graduating students to wear ceremonial attire, such as cap and gown, at the ceremony.

Any graduating student who has completed basic training and is an active member of any branch of the United States Armed Forces may, at the student's option, wear a military dress uniform at the ceremony. (Education Code 35183.3)

Students shall be permitted to wear tribal regalia or recognized objects of religious or cultural significance as an adornment to the customary ceremonial attire, as long as the adornment does not cause a substantial disruption of, or material interference with, the graduation ceremony. (Education Code 35183.1)

Students who desire to wear such adornments shall seek permission from the Principal, Shanda Herrera at least 14 days before the graduation ceremony.